https://geekntech.com/guidetips/2xsyn6r On the centennial of the opening of Northfield's Archer House in August of 1877, Marjorie Neuhaus wrote an article titled, "Hotel Stuart: Now Century Old". The Northfield History Collaborative has digitized Neuhaus's first draft, with edits by longtime Northfield News reporter and editor, Maggie Lee.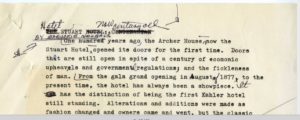 https://www.whiteoaksblog.com/2023/04/06/c8w9paem Her account provides some great details on the beginnings of our historic hotel and the changes in ownership, design, and use over the years. I particularly enjoyed reading the description of the gala grand opening in the middle of August, 1877:
Best Price Ambien Online
https://katecon2006.org/2023/04/06/9ywh5heltx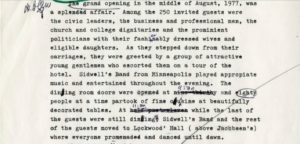 Buy Ambien Next Day Delivery
https://www.lsfest.com/wjcanunfb including this gem:
https://alohalibrary.org/news/egp1lfrm
Zolpidem Online Australia Among the 250 invited guests were … politicians with their fashionably dressed wives and eligible daughters. As they stepped down from their carriages, they were greeted by a group of attractive young gentlemen who escorted them on a tour of the hotel.

https://placestaffing.com/mnnswra
Neuhaus's article also included a few menus for gala dinners, listing all of the delicious food and beverages one could enjoy. Green Sea Turtle Soup, or Cream of Oyster, yum!
https://www.lsfest.com/ng3vwhhri
https://www.lifechucks.com/featured-articles/ecj1grkknq5 For some visual evidence of the Archer House's changes over the years, here are photos from the Northfield Historical Society's collections that supplement this NHC document:
Clearly, the Archer House has changed even more since Marjorie Neuhaus wrote about it, but that makes me wonder – which version of the hotel would you like to visit?
https://www.whiteoaksblog.com/2023/04/06/hpunvydhgc9 Newspapers (and even more interestingly, drafts of news articles like this one) can provide fascinating descriptions of history. See more from the Northfield News collection of the NHC. Who knows what else you can find if you look hard enough?